timeBuzzer is more than another time tracking software. Of course it has the hardware Buzzer, but it is also one of the most flexible time tracking solution you'll find on the market. In most software products it is absolutely fixed, on what items you have to track your time on (e.g. on "Clients" and "Projects"). timeBuzzer is much more adjustable.
First, you can define your own categories with any name you want. Let's say you're a lawyer, you would probably define two categories: "Clients" and "Cases". Second, you can create relationships between the items in your categories. In our example you would link each case to the actual client. So if you go tracking your time with the Buzzer, you would select a client first, and after that the case you're working on. But it's getting better.
Let's stay with this example: if you're a lawyer who rarely has clients with more than one case, you could go without the category "Clients". So you would have to select only one item for time tracking, what makes it even faster. But maybe you want to measure, how many time you spend for back office you cannot bill to the clients? So you could create an extra category named "Billable" with two items: "Overhead" and "Billable". In this case, timeBuzzer allows you to link these two items to every case item. So when you are tracking your time with this setup, you first select a case and then if its billable or not (Overhead). So you can quantify how productive your work and overhead is.
You see, timeBuzzer is super flexible and can be customized for your needs. In the following chapters we show you, how you install and adjust timeBuzzer for your needs
Create User Account
Go to https://timebuzzer.com/register/ and register your free user account.
You receive an email with an activation link and a password.
Click the link to activate our account and login with the password.
After your first login some sample data will be created.
Learn about the Layer System
The Layer system makes timeBuzzer super flexible, so you can fit it perfectly for your needs. First, take a look at the sample data.
On the menu you see "Customer" and "Projects". These are layers.
Click on the first layer "Clients", here you can manage your clients.
Click on the second layer "Projects", same here.
Click on the first project "Casino Royale".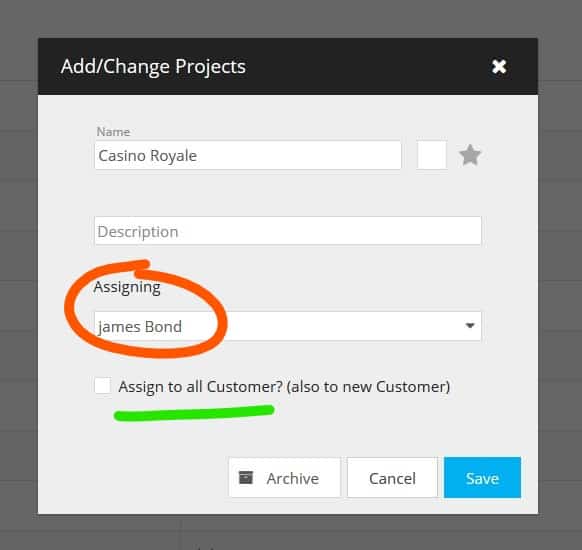 Click on the drop-down field "Assigning". As you can see, this project is only assigned to the customer James Bond. This makes sense, but you would be able to assign it to multiple customers from the first layer. Or you could check the field "Assign to all Customer", so this project would be assigned to all Customers and automatically also to all customers you create in the future.
As you can see, you can build flexible relations between elements in the first and second layer. And the next good news: you can also define your own layers.
Make your own layers
If you want to work with the layers "Customers" and "Projects" like in the demo data, you can skip this chapter.
timeBuzzer allows you to define your own Layers. You can decide how many layers you want and how they are called. Maybe you need only one Layer called "Clients", or you need a third layer for "Sub-Projects".
Click in the menu "Settings".
Click "Layers".
Here you can activate or deactivate layers and give them a name.
After making your changes, reload the page (or click F5).
Now you can see you own layers in the menu and start with creating entries (e.g. projects) in your layer lists.
With the layer system combined with the possibilities of assigning relationship between your entries, you are able to build up complex structures very easy. Below is an example for a typical project management configuration with the three layers "Projects", "Sub-Projects" and "Cost Centers" and some entries with different assigning:
Install your Apps
Download the timeBuzzer Desktop App

Download: App for Mac
Download: App for Win


Install the App.
Connect the Buzzer to your computer.
Start the timeBuzzer App.
Login with your email address and password.
For mobile use download the timeBuzzer mobile App in the App Stores for iOS and Android.
That's it, you can start with tracking your time. Enjoy timeBuzzer.