time tracking with a buzzer

Save time & money with timeBuzzer
45min
are spent on average per employee and week for
time tracking alone. With timeBuzzer you'll be faster.
2310,- €
Can be saved on average per year
through the use of timeBuzzer. Thanks to an intuitive operation of
the buzzer, your time will be recorded easily and efficiently.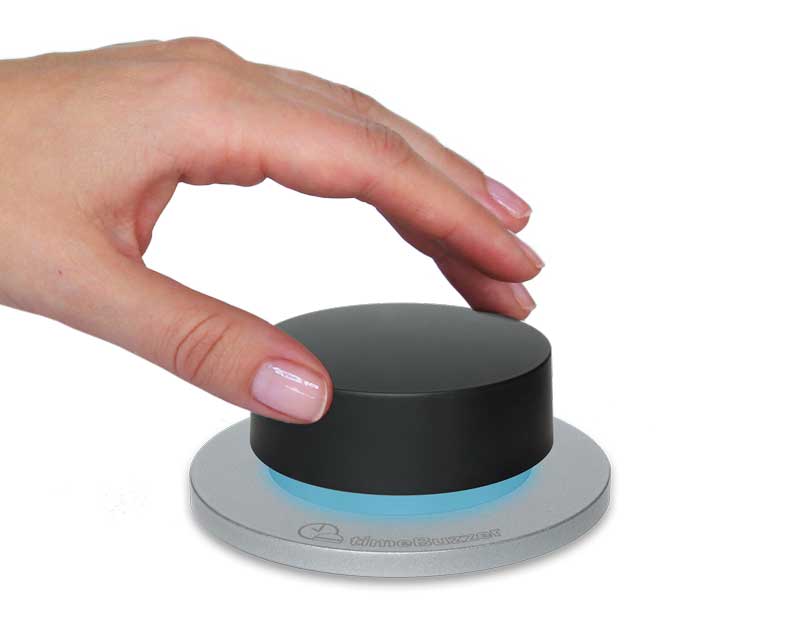 Touch
When the buzzer is touched, the timeBuzzer App will open.
Turning
Turn the Buzzer to navigate through categories such as customers, projects or cost centers.
Clicking the Buzzer
By pushing down on the buzzer, you can start and stop your time tracking.
Illumination
The Buzzer will be illuminated during the time tracking.
The interface for the fastest time tracking around.
The App will open as soon as you touch the Buzzer.
Turning the Buzzer will allow you to navigate through customers or projects. This will enable you to record your work time very quickly. When you're on the road, you can also use your mouse, keyboard or touch screen to control the App. The timeBuzzer App is available for Windows and MacOS.
Create reports. Manage your team. From anywhere.
All the acquired time data is stored in your timeBuzzer Cloud account. You can edit, add or export the recorded time data. Here, it is also possible to manage teams and consolidate the time data of a respective team. All the data is fully encrypted during the transmission. Our servers are located in German data centers.
You want accurate information? Comprehensive filter and list view options allow you to evaluate your data very detailed and accurately. You can filter according to periods of time, users, customers, projects and all other categories that have been configured. A full text search in your notes is also possible.
In the user management area you can manage your team members and assign administration rights.
You have customers? And projects? Or customers and cost centers? Or all of them together? Or something different? Anything is possible!
The freely definable layers in timeBuzzer provide you with a full range of flexibility.
This enables the creation of requirements layers, as well as there definition as customers, projects, clients, cost centers, work steps or as a different category.
You can define up to three layers.
For example: you can define the first layer as "Customer", the second layer as "Projects". Now you can add all your customers to the first layer and all your projects to the second layer. All projects are assignd to the respective customers. This will allow you to optimally adapt timeBuzzer to the needs of your company.
You can add a note to every recorded time.
The full text search function in the timeBuzzer cloud enables you to quickly and easily find every recorded note.
CATEGORIES
Do you record your time according to projects? Or according to customers and projects? Or cost centers? You can freely define up to 3 categories.
TEAM
Manage your team members. Distinguish between administrator, team leader or user. The recorded times of your team can be evaluated.
OPERATION
The timeBuzzer App can also be operated with the keyboard and mouse when the buzzer is not at hand.
NOTES
You can add a note to every recorded time.This will enable every customer to trace the time expended for him.
EXPORT
Export your time data as an Excel or PDF file. You can apply filters to your time data before conducting the export.
WINDOWS & MAC
The timeBuzzer App works with Windows and Mac OS. The App is available in English and German.
SECURITY
The connection to the timeBuzzer cloud is SSL encrypted. Our servers are hosted in Germany.
MOBILE
Use timeBuzzer with mobile apps. We will soon release our Apps for iOS and Android.
You are on the road with your notebook? You can control the complete timeBuzzer App with the keyboard arrrow keys.

Use timeBuzzer together with other tools